Chicago Woman's Residence
Experience the real Chicago life while staying at our women's residence!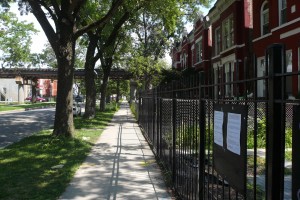 We are located in a real life residential neighborhood just 2 blocks from the Kedzie stop on pink line train. That means you can get anywhere from here! There is a local number to call, just tell the address you are at, and the address you want to go to , and they will tell you step-by-step how to do it. They will repeat it if need be, and even tell you what time to catch transportation so you will arrive at the time you want to be there. Just call 773-836-7000.
Staying here, you are not isolated from real like, quite the contrary, you will find that, people nearby, like to say hello and get a hello in return! You are walking distance to a huge Douglas Park. It has plenty of grass and trees. In addition it has a large Cultural Center, an outside pool, a track to run or walk, soccer field, and even a lagoon! There are plenty of large beautiful geese and ducks. Plenty of folks BBQ there in the summer.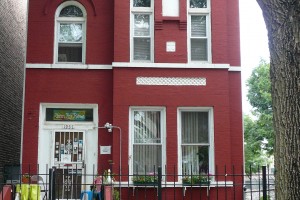 Our women's residence is on the second floor of our building. It is totally furnished with 3 bedrooms, living room, kitchen, bathroom, and an outside deck off the kitchen. You will find plenty of art everywhere and lots of little knick knacks and lap robes and throw pillows to make you feel right at home. Each bedroom has a name- Even Cowgirls Get the Blues, Bette Midler Room, and Florence Comfy Room. The Frieda Khalo Kitchen has everything you need to cook and make all your meals even with a humongous refrigerator!
Linens are provided for all rooms. The rooms are cozy and colorful.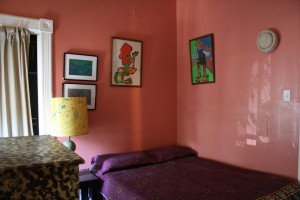 We have a small art gallery/lounge on the first floor with an extra bathroom and an office. The live-in manager lives in the back of first floor with her dogs. They don't go up to the 2nd floor. No cats live here.
On the lower level there is an art studio and a laundry room for residents to use. It is one dollar for a wash and one dollar for a dry.
Outside there is a wonderful garden with nature bursting out all over. Plenty of greenery and flowers. A nice place to relax in the shade or sun. Our property is totally fenced in.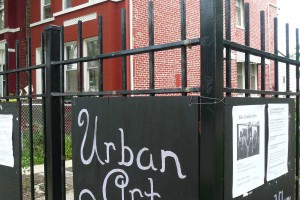 Just 2 short blocks east of our house is the Kedzie stop on the CTA Pink line. One block south of us is the Cermak bus, among other things- you can take it directly to China town! Just 2 blocks east of us is the Kedzie bus and you can take it south to shopping and restaurants. You can walk one block south to Cermak and walk along Cermak to see all the little Mexican shops and restaurants. Or you can visit the Dr. King Apartments a short distance away which stand on the spot where Dr. Martin Luther King once lived On Hamlin at Ogden Blvd. There are also plenty of beautiful murals in this area to view.
The live-in manager takes public transportation so she can help you to find your way around. The pink line train takes you right downtown. If you want, get off at Washington/Madison stop where the downtown Cultural Center is. Go inside and see the amazing architecture, the mosaics, the art galleries, the visitors center. At noon- 
Right across Michigan Ave. is Millennium Park with it's waterworks spouting from the mouths of faces imposed on brick facades. It is fun. You will enjoy yourself!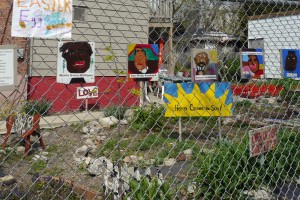 Rooms are $45.00 per night for one woman. $55.00 per night for 2 women. Payment is expected in advance. We use Paypal. No drop-ins please.
Make arrangements via the website to inquire and stay at this unique place in Chicago! Should you want to stay longer- our rate for one month is $550.00 for one woman.
contact@urbanartretreat.com is the best way to  inquire.