Volunteer
I had a really good time in UAR during the summer 2008. I really appreciate the hands-on experience on marketing the insightful art workshops and programs. You gave me so much support in improving my communication skills as well as English skills. It was really helpful to a foreign student who came to the states for her first time.

Also, working with other volunteers and artists made me feel like we were a big family together. I learned a lot from people at CUARC, such as how to get others motivated and interested in your presentation. In particular, as a Chinese, I used to be rather indirect and inhibited, but the internship experience helped me become more direct.

I remembered Dianna once said she never judged people for where they are from or how they look, she always give herself a chance to get to know a different person without biased by the first impression. I believe that's also at the core of UAR's culture, an open heart. CUARC is such a welcoming place to artists from all over the world. In fact, by helping Dianna conduct art workshop for children and elders in the neighborhood, I realized that everyone can be an artist and everybody has the talent to create beauty.

I'm really grateful to Dianna for inviting foreign students to work as interns at CUARC. It was truly a once in a life time experience for me. I will definitely visit Chicago and CUARC again in the future.
- Volunteer Statement
 
Would you like to share the fun with us?
We sure can use help with gardening tasks once spring is here! If you would like to help, send an email with the dates and times you are most available to help in the Chicago URBAN ART Retreat Center's gardens! No experience necessary! At the Chicago Urban Art Retreat Center we are committed to bringing the best programs and opportunities to those we serve. We have seven program and can use plenty of helpers!
Like all non-profits we need the help of volunteers in order to run these programs. Unlike most non-profit organizations, we cannot do it without volunteers, since we are an all volunteer organization!
We ask that you devote just a little of your time and effort so that together we may continue to provide a place for artists and the community to join forces. If you are truly interested in volunteering with us please take a look at some of the opportunities listed below. We welcome people with all sorts of skills so if you do not find anything that interest you let us know.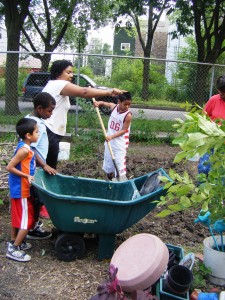 "I cannot believe that the purpose of life is to be happy. I think the purpose of life is to be useful, to be responsible, to be compassionate. It is, above all to matter, to count, to stand for something, to have made some difference that you lived at all." - Leo Rosten
CUARC wants to invite you to attend a Volunteer Orientation on a Wednesday or a Saturday at noon. Are you interested in helping with the Children's Program? Maybe you are more interested in helping with a ROOM makeover for the Women's Residence? Perhaps you would like to be the Entertainment at an CUARC event? Or, maybe you would like to help with publicity, office duties, or mural painting? Maybe you would like to help with Gardening chores? We can always use your help with our community art program project which currently is the Peace Parks Project of North Lawndale. No matter what interests you, Chicago URBAN ART RETREAT Center can use your help!
So let's get you into a Volunteer Orientation so we can get you started!              There is no commitment to attend an orientation. You can learn more about our organization and we can have the opportunity to meet you. 
Maybe you are interested in some other aspect of what CUARC needs your help with? Summertime there will be the the waterfall & waterlillies mural painting in the meditation garden!!!  In the spring, summer, fall -there is artistic gardening in the Florence Gardens at CUARC.
| | |
| --- | --- |
|   | Coco volunteers for Chicago URBAN ART RETREAT Center |
How often to Volunteer ?
HELP one time only, once a year or on a monthly basis. Or two times a week, weekly, or two times a year, it's all up to you!   All agreements have a time limit; for instance, you can commit to helping weekly for 2 months, monthly for 6 months, or possibly just for the kids summer program for next year. You decide depending on your schedule.
A Volunteer-Run Nonprofit Organization Invites You To Come Help Out
Everyone is welcome! All board members are volunteers. They back the CUARC and help to be sure we have what we need to maintain our building and programming. The CUARC building has plenty of needs. Volunteers are the ones who take care of things. Volunteers paint, repair, fix, and more. Volunteers secure donations that we need for our building, our residents, and our programs. Currently we are looking for volunteers to get some donations of art supplies too, especially glue, glue sticks, watercolor paper, canvasses, acrylics paper, acrylics, and more. Check out more opportunities in the lists that follow.
List of Potential Volunteer Work
*paint signs! small and big !                                                                      *Sponsor a room of CUARC in the women's residence to improve
* Paint the gallery walls, another room, or part of the outside of the building.
* Gardening projects like picking up litter, weeding, planting flowers or shrubs, creating a patio, removing yard debris, composting.
* Work with children in reading, writing, learning compassion, art making.
* Work on a mural project for CUARC garden, or the neighborhood.
* Distribute flyers door to door in the neighborhood.
help create flyers, or brochures. Find financial sponsors.
* Give some time to organizing the office or art studio
More Opportunities
Housekeeper duties include cleaning, taking out the trash, watering the plants, preparing bedrooms for new residents
Children's Program

utilizes

Volunteer Mentors

as part of a team approach

.
Mural project for boarded up buildings by appt.!
All our off-site programs are headed up by volunteers.
CUARC volunteers staff informational booths at various sites including Roosevelt, DePaul, and Columbia College outreach to students events. We also staff info. tables at art events and social justice issues events.
help out at art tables and face painting at community events!
Fun Volunteer Activities
Volunteers organize events and activities for CUARC. Periodically we have movie times, book groups, poetry readings, art receptions, garden relaxation times, marshmallow roasts, children's art festivals and Grandparents Lemonade Times.   CUARC volunteers also attend community meetings to represent CUARC like CAPS, Law & Order Cops, Chamber of Commerce, President Obama's Presidential Library, and LCDC to hear about community news.    Volunteers also help keep CUARC to to organized with weekly meetings.
More Ideas
Gardening Helpers Art Program Assistants Child artists needed – No Experience required. Weed Pullers Needed to work with children in our garden! Botany Class leaders to work with children in the outside garden on site! Weekday & Saturday Office Assistants Women's Group co-facilitator Mentors for Girls! Tutors to help people get their GED. Event Assistants. Gallery Staff . Marketing Assistants. Media Helpers. Pied Piper of Child Artists! Artist-In-Residence volunteers