Peace Art Studio
Inquire about your small group coming here for a workshop. All ages welcome.
or
Any  individual may inquire about a free class.
Join other differently minded folks and enjoy making art in our art studio. We use the EVEN YOU ART method of teaching so it doesn't matter if you think you can make art or not. Everyone can make art here!
We provide a supportive and kind atmosphere where adult non-artists, beginners, and the hesitant can try their hand at art-making. Among other things, we teach drawing, watercolors, collage, acrylics, and assemblage.
You don't need to bring anything- just yourself. Sit down and relax, follow the instructions and before you know it- you are making art. Easy does it….we learn to practice, take our time, and try it again.
An experienced instructor leads you gently in making art and relaxing into it.
To find out when you can attend- send an email via our website to RSVP a Saturday that is good for you. We often have a FREE class from 11-1 on Saturdays. Find out when! It is really easy and fun and relaxing!!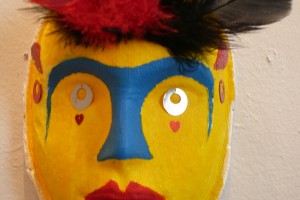 During February & March 2018 we offer free workshops on the topic of END VIOLENCE AGAINST WOMEN & GIRLS in our art studio and gallery areas. First we take a look at the art show on display on this topic. We talk. Then we learn about the art supplies we will use. An experienced artist and art therapist is on hand to lead the workshop of discussion and art-making! To find out more and to register, please email contact@urbanartretreat.com  Have in mind when you would like to have your free art workshop!