Upcoming Shows- SCROLL DOWN
ENDING VIOLENCE AGAINST 
WOMEN AND GIRLS
OPENING RECEPTION: 
FEBRUARY 10 (1-4 P.M.)
An ART SHOW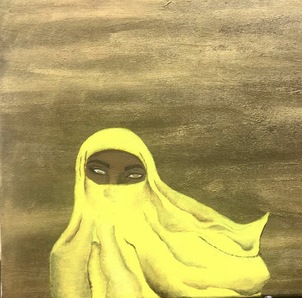 February 10 – March 26
Liz Long Gallery at Chicago Urban Art Retreat Center
                                                                1957 S. Spaulding Ave. at 21st
Artists ARE ENCOURAGED to create and submit art that tells a story about violence against women & girls - whether in the past or current. We gather art for display that shows how violence against women & girls is happening now, and how it's use in the past, shows how women have been controlled through fear.
Rape keeps women from going outside and having a full life. Domestic violence keeps women in abusive relationships and away from their own personal power. Honor killings keep women from leading full lives & having options. These are just a few ways that women are controlled by violence. 
Women need to continue to speak up and let their voices be heard. Men who support women need to get on board. Women need platforms for their opinions and their voices to be heard. This art show will allow viewers to discuss what they see, and what the status of women's & girls lives are like.
During the art show, we will offer art workshops to make art about violence against women & girls. 
To find out about discussions, hours, and opportunities to make art about this issue, send an email to contact@urbanartretreat.com
Young Artists Art Festival
The Young Artists Art Festival at the Peace Park located at 2101 S. Spaulding Ave, corner of 21st. It is last Saturday in August from noon-5. Set up is 11 a.m. Youth 13-19 are welcome to participate. We need to get you registered. Send images of your art to contact@urbanartretreat.com or make an appointment via that address to bring your art to the gallery at Urban Art Retreat to see curator if you cannot send images via email.  It is FREE to participate. You will need a table. One that folds like a card table would be best. We will provide 2 chairs for you and a friend.
That day from noon-5p.m. young artists will paint portraits of black heroes to try to win a prize. Our building is located across the street and staffers may use the restroom there.
The newly created

Ann Richter Fund

will provide cash prizes for the first, second, and third prize winners chosen by the highest numbers of votes during the afternoon. Visitors and judges will be voting on the best artists of the day. First prize winner will receive $125.00. Second prize winner will receive $50.00. Third prize winner will receive $25.00. All children who attend will receive art supplies.
Urban Art Retreat will arrange a food & drink table plus music that day. There will be a space for young children to play and make art with volunteers who enjoy helping kids have fun. We encourage people to attend and support young artists by showing enthusiasm for their art.
For additional information and questions please email contact@urbanartretreat.com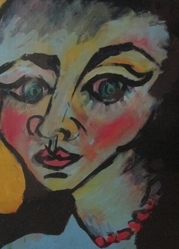 GUIDELINES TO SUBMIT ART FOR CONSIDERATION and to enter exhibits at our art gallery:
Please send digital images of your original art in time to get your actual art to gallery on time. contact@urbanartretreat.com. Email an informative artist statement about you and about your art fits the theme of that show.  All media is considered with limitations of size to 32″ in any direction.

We will carefully review and consider your artwork for a show. Please indicate which art show you wish to be considered for.

Once accepted, we will contact you via email within 24 hours.

Prepare your pieces to be formally presented in the gallery. Label with your name and the title of the piece only on the back of each art piece you deliver. Install display-ready wire on the back of each piece we agree upon for the show. If a hook is used on back of artwork, it must be claw type and only one in center. Please don't use any other fasteners. Curator prefers one wire on back.

Deliver your art pieces to the Liz Long Gallery at CUARC by appt. or send via mail/UPS/FedEx. Art must arrive at gallery by date indicated for that show. thanks. Artist is responsible for all transportation costs and transportation arrangements. Include two copies of a signed inventory sheet you create that includes all of your contact info at the top of the inventory sheet (i.e.: your name, address, etc.), and a list of all the pieces you send including the title, size, description, media, and price or NFS.

Expect that artists receive 70% of all sales with 30% going to CUARC, the non-profit.

Whether you live nearby or faraway- all artists are to invite their support network (family members, friends, co-workers, & clients) to attend the opening reception and associated discussions they are interested in. All artists are asked to help publicize the art show online, on their Facebook page, twitter, etc.

Artists must pick up their art on the last day of the show at 4 p.m. or by appt. within 3 days of the end of show or pay a daily fee beginning on 4th day. We do not have storage for your art and a new show is coming in right after your art show ends! Please be respectful and help us out. Artists who live long distance must make arrangements to get their art back right after the show.
We are especially interested in political statement or social justice issues art works. Art about the "isms"  are always welcome- racism, sexism, ageism, heterosexism, classicism, ableism, etc.
International artists are very welcome in our art gallery. You must be willing & able to make arrangements for your art to get to and from the gallery & meet deadlines. You are responsible for all transportation costs.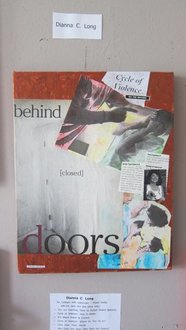 Local Artists Meet Artists from Other States and Other Countries Around the World!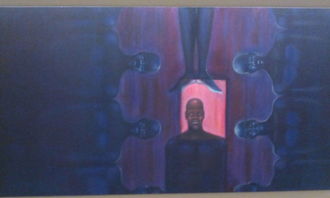 To find out more about the art show and event, please contact curator at contact@urbanartretreat.com. Make sure to indicate which show you are inquiring about. We are especially interested in art about social justice issues and on the theme of peace . Please send images of your art to curator. Once accepted, please follow the guidelines above to enter the show.

Contact Information:
Liz Long Gallery at Chicago Urban Art Retreat Center,
1957 S. Spaulding Ave. Chicago, Il. 60623.
www.urbanartretreat.com  contact@urbanartretreat.com773-542-9126