Peace Parks of North Lawndale
Background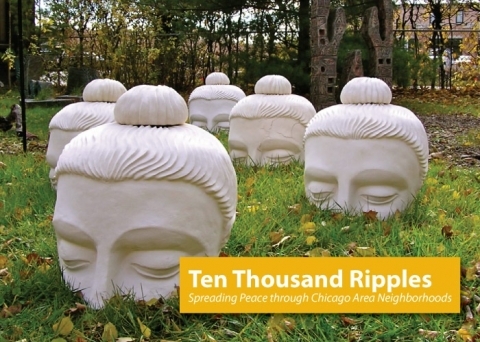 The North Lawndale Peace Parks initiative is an offshoot of Ten Thousand Ripples, a "collaborative public art, civic engagement, and peace project" developed by the artist Indira Johnson. Centered on the creative integration of 100 Buddha sculptures in 10 Chicago neighborhoods, Ten Thousand Ripples aims to open a space for community activism and structural change. The Buddha heads, situated between earth and sky, symbolize peace and spiritual growth. Their strategic placement in various locations provides a springboard for continuous, collective transformation. Examples include education, the economy, family dynamics, community beautification, and a greater engagement with the arts. By actively discussing and planning around these issues, participants find themselves in a position to challenge the status quo. It should be noted that this is an intergenerational project—individuals of all ages contribute in different capacities.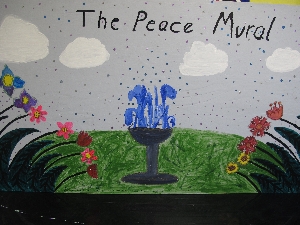 These ten projected parks constructed on vacant lots throughout North Lawndale will focus on decreasing crime and violence and promoting the development of clean, safe peaceful spaces. The idea is to "reclaim" what is unused or distorted and facilitate a sense of communal pride and ownership. Recent studies by the University of Pennsylvania and University of Vermont have found that well-maintained vacant lots with grass, trees, and fences are correlated with reduced crime rates.
We will landscape the empty lots to make them welcoming green spaces for people to relax, converse, and enjoy nature. Children will feel safe to play there, and old people will sit and read their papers. We will make sure the signage identifies it as a People's Peace Park and urges folks to respect the space and keep it clean. In addition, we plan to hire youth who live near the parks to maintain them year round. We will train youth in how to identify and remove graffiti. Our group will take permanent responsibility for the upkeep of the park.                      We wish the Peace Park to have a forever home in these lots.
We have formed committees- landscaping, publicity, donations, sculpture.
On Wednesday the October 16, 2013 a group of enthusiastic individuals from different organizations North Lawndale, including the Chicago Urban Art Retreat, the Lawndale Christian Development Corporation, Chicago Cares, and Neighborhood Housing Services began to plan a better future for ten vacant lots in North Lawndale, starting with a kick-off Hot Chocolate News Event in the afternoon on Friday, November 8. The lots are a part of the Peace Parks of North Lawndale, a response to the Ten Thousand Ripples Project (TTR), a partnership of Indira Johnson and Changing Worlds, Inc. According to the TTR website, Johnson chose 10 neighborhoods in Chicago to gift with large statues of the Buddha's head, symbolizing peace. North Lawndale is one of the communities the artist chose, along with Evanston, Rogers Park, Uptown, Albany Park, Little Village, South Chicago, Pilsen, Auburn Gresham, and Back of the Yards. To go along with the gift of the statues, Johnson challenges the communities to invest in peace and art in their neighborhoods. Each community approached the challenge in a different way. North Lawndale chose to revitalize 10 vacant lots scattered around the community.
In North Lawndale, it seems like every block has at least one vacant lot. They are the places where litter and junk gather, and occasionally you might find a pile of cinder blocks or a footpath where people cut through on their way to somewhere else. You might find a group of people gathered for any number of reasons — from things of little significance, to activities of ill repute. The lots are hollow spaces in this community — spaces that need to be filled with something better than what ends up in them. This is the goal of the Peace Parks of North Lawndale- to transform these vacant spaces into vibrant peace parks to serve the community.
Each of these lots-turned-parks will be landscaped and transformed into welcoming, peaceful spaces. They will be home to abstract sculptures created by people of Chicago — not artists from outside the city, state, or country. The sculptures will represent African American heroes. Three prototype sculptures for the project of Barrack Obama, Toni Morrison, and Maya Angelou call the garden at the Chicago Urban Art Retreat Center home. They will be unveiled on Nov. 8. Murals made in local schools will also be featured in the parks also. The emphasis on collaborative community effort is meant to help preserve the parks- the more pride North Lawndale finds in its new green spaces, the more likely they are to continue existing as a source of pride for the community.
The goal for fundraising for all 10 parks is a weighty goal, but by no means out of reach. Construction for the parks is slated to begin in March. That is a short 5 months from the kick-off on Nov. 8. But with support from local organizations and community members, the Peace Parks are not inaccessible for North Lawndale. If you or your organization is interested in volunteering or donating to the Peace Parks Project, you can contact info@urbanartretreat.com. Let us keep looking forward toward next March; a time of new growth in North Lawndale as new ground is broken for Peace Parks over the spring and summer months, and in the minds of community members.                                                                                                                                   
Dianna Long and Steven Lin and Sara Wines and Vernon James
Chicago Urban Art Retreat Center (lead organization)
1957 S. Spaulding Ave. (773) 542-9126 contact@urbanartretreat.com
www.facebook.com/urbanartretreat
Carson Poole,     Chicago Botanic Garden Green Youth Farm
Namita Shah,       Chicago teacher
Annamaria Leon,  Permaculture Design and Consulting
Christine Street,  Chicago artist
Tracie Worthy,     Lawndale Christian Development Center
James V. Allen,     Chicago artist
Charles Leeks       Neighborhood Housing Services