Introduction to Chicago Urban Art Retreat Center
Chicago Urban Art Retreat Center (CUARC) is organized to provide safe space for people who are different from each other to come together and learn from each other. This non-profit was created to provide support and positive opportunities for under-represented people in an environment that strives to be multicultural. CUARC urges it's volunteers, program participants, and people in general to examine social justice issues, learn from them, and apply that knowledge to decreasing sexism, racism, classcism, homophobia, ableism, ageism, and other oppressions.
Through our community building, we partner with other organizations to increase awareness about many  important issues that all of us can act upon to bring about positive change in our communities. By utilizing art-making and discussion, we help & support people to learn, change, grow, and become proud of improving their lives. Using early women studies programs as models, our organization offers hands-on Real Life Inner City Experiences for our volunteers and interns who are supervised by our Programs Manager. Everyone involved has a chance to make improvements in their lives, to broaden their view of life and living, and learn more about diverse cultures via the process of art-making & sharing our experiences.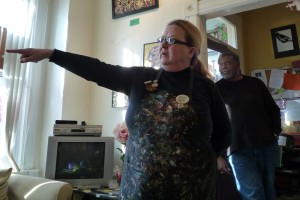 Our programming offers opportunities for people to contribute to the lives of others, feel supported while they change & grow, and help decrease stereotypes and negativity.
Our Programs Check out Athena's House, Peace Art Studio, Steppingstone Artists Consultations & Gallery, Youth Solutions Program, Community Art Program, Have Studio Will Travel, Florence Gardens Program,  and more!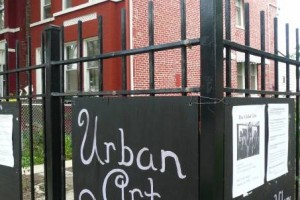 Athena's House is a safe, affordable women's residence for female travelers and other women in transition. The residence is located on our second floor, is totally furnished, and offers daily and monthly rates for women who stay with us. We also offer retreats for women to reduce stress. Our guests come from all over the world and find a real "Life In the City" experience.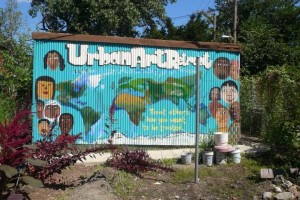 Florence Gardens is our large gardens comprised of a series of small relaxing floral, green gardens. We have many small paths running throughout. During the nice weather, much of our programming takes place outside. The children are encouraged to learn where life is grown, where food comes from, how seeds grow plants. Many youth and adults earn their service learning hours and community service hours here and helping to care for our property in general. We don't use pesticides and there is always a lot of weeding to do.    We have a mural on the side of our small outer building (used to house gardening tools and donations) and on the back there is a mural of a large peace sign comprised of many kinds of animals.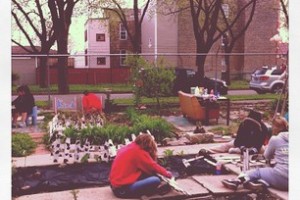 We have painted many message murals in the garden with words like "even critters don't litter" and "all you need is love" and "don't mess with the animals" and "thank you".  We have painted flat stones for some of the paths. There is a small meditation garden in the back. One path has tiny glass vials turned upside down pushed into it with a variety of colors showing through.  We have created 3 sculptures in the gardens- one honoring President Obama, one a horizontal homage to Toni Morrison, another a vertical homage to Maya Angelou.  We hope to add a water feature one of these days with a constantly running water fountain.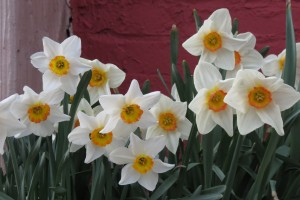 Peace Art Studio is a place where non-artists, artists, adults with and those without a mental illness can make art side by side. Located on our lower level, the art studio is the site for diverse community art projects, classes for non-artists, learning and illustrating the social issues of our time, plus a way to relax into art-making to reduce stress and decrease stigma.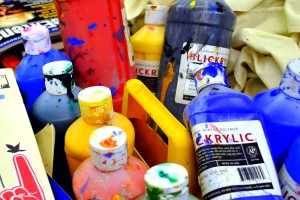 Steppingstone Artists Consultation & Exhibition Services operates out of the Liz Long Gallery located on the first floor of our building. We provide opportunities for new artists, artists new to displaying their art, and artists from other states & countries who want to show their art in Chicago; also group art shows and career counseling to grow themselves as artists. Periodic "How to Be an Artist" workshops, social justice theme art shows, and one-on-one supportive counseling, create helpful support for artists who are looking for guidance and transition in their careers.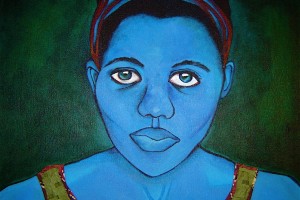 Have Studio Will Travel is our off-site program which allows other organizations without art programming to subcontract our organization to offer programming for their population at their site. CUARC offers art programs, therapeutic art experiences, stress reduction/relaxation sessions, and community participation at other sites for diverse populations. Whether for client populations or employee populations, we can help fill the gaps.
Youth Issues Youth Solutions is our children's program for kids 6-and older. Days and times change with the seasons- check it out. This program provides opportunities for youth to make art, see positive role models, get guidance for increasing their knowledge of social justice issues, increase their writing & reading abilities, and learn more about the world. In addition, the children have fun, socialize with other youth, and learn about conflict resolution. We offer a chance for young people to develop themselves in the areas of kindness, responsibility, compassion, empathy, and being a good friend. Each season, the youth put their knowledge to the test by writing, learning the lines of, and performing a play about a social justice issue. We often focus on peace, recycling, conflict resolution.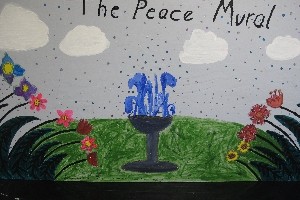 During the school year, we provide art and social justice programming at local schools with art-making and discussion being our preferred method of teaching. We involve the kids in our com- munity art program by having them create portraits of African American heroes on diverse sized wood blocks. They learn about black history and painting. We use the wood blocks on "puzzle murals" we create for the Peace Parks of North Lawndale. In each transformed vacant lot where we are creating a peaceful park, we include a "puzzle mural" of hundreds of African American  heroes contributed by Chicago children.  At the end of the school year, we put together an art show and reception of the art kids have created and invite the rest of the schools and parents.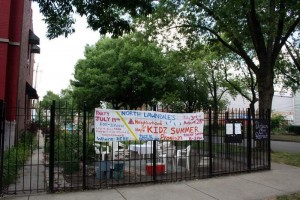 The end of August each year, we offer a Families Arts Festival just before kids go back to school. On the last Saturday of August, there is an art show in our gallery of works by volunteers, interns, and program participants which includes children. In addition there is food, drink, performances, music, art tables, marshmallow roast outside, and much more at this Back To School Fest.  Children receive school supplies, they perform their conflict resolution play, and best child artist wins a prize. We provide this  "street festival"  in conjunction with the block party for the 1900 S. Spaulding block.
Public Art Community Programming: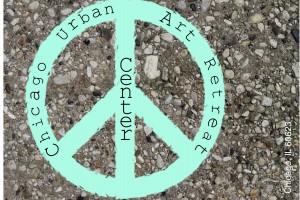 Peace Walks- are scheduled periodically during nice weather. Children and adults have painted peace signs and peace vests to carry and wear during peace walks around the area. We hope to encourage children to yearn for and become active for peace building. We hope to remind adults that peace can be possible.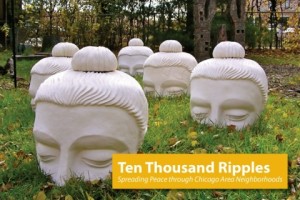 Peace Parks Project of North Lawndale- we are working with other individuals and organizations in the area to acquire vacant lots and create peace parks from them. We will landscape the lots with pathways, shrubs, trees, flowers, and peace sculptures. In addition, we will install life size sculptures honoring African American heroes to honor African heritage, inspire African American kids and adults in general. We plan to use recycled materials in the creation of the sculptures made by groups of regular folks from around Chicago.
Our organization is totally run by volunteers!