Art Gallery at CUARC
Current show in our on-site gallery-
Chicago Black Artists Show!

Plus "Exhibiting Your Art Workshop" for Artists!
Liz Long Gallery and Chicago Urban Art Retreat Center present -
Chicago Black Artists Show.
We will also host an opportunity for artists new to exhibitng their art to attend a workshop to
answer questions about
Exhibiting Your Art !
Located in North Lawndale,

this gallery features artists who are

under-represented

in the art world.
The gallery also presents theme shows focused on

social justice issues

. A

steppingstone gallery
for new artists and artists trying to break into the Chicago art scene, it's artists are local, from other
states, and even from other parts of the world.

Artists seeking answers

, experience, a place to
begin their exhibition careers, and a way to begin their careers in the USA; artists are glad to find
a welcoming gallery who understands the struggle of

modern day artists

.
The

Chicago Black Artists Show

is all about today's African American Artists- who they are, what their
interests are, where they are coming from. These are artists who are expressing themselves and are
showing as part of a group show of black artists.
In addition, during the the exhibition, there will be a
workshop
geared to artists who are fairly new to
exhibition and/or have questions about
how to be an artist
, how to exhibit their art, what to do and where
to go. The Chicago Urban Art Retreat Center will hold a
free workshop
to answer their questions with
longtime artist, gallery operator, and curator, Dianna C. Long responding
to queries from artists who attend.
We will discuss
how to find support as an artist
, where to exhibit, art organizations, how to hang your art
and present it,
online presence, and more.
"HerStory: Contributions of Women to History"
This show of works by many women artists has contributions of personal histories and historical contributions. Paintings, prints, installations, fiber art, videos, photography, all included. Filiz Cicek from Istabul, Lauren Raine of Arizona, Jennifer Weigel of Missouri, Diana Delgado and Lauren La Rose and Sara Peak Convery and Lea Antiq and Therese Staples Burton and Dianna C. Long of Chicago, Kate Brandt and Willie Marlowe of New York, Linda Gleitz of Colorado, Melody Croft of Georgia, Melissa Farley of California, Wen Redmond of New Hampshire, and Dare Boles all included.
Up through March 29. See on Saturdays from 11-4 or by appt.
We have a double whammy with 2 art shows by women artists from around the country!
... Also a postcard show, wherein women express their views about oppressions women face yesterday and today called
"With A Broken Wing: Oppressions Women Face".
Also on View through March 29 on Saturdays from 11-4
or
for an appt. send email to - contact@urbanartretreat.com
HerStory: Women's Contributions to History
______________________________________________________________________________________________________________________________
The Liz Long Gallery is a supportive
stepping stone gallery
with answers and opportunities for new and emerging artists. The gallery at CUARC features artists with extensive resumes, and also welcomes newcomers. We love outsider art, and self taught artists. This makes for a memorable show of unique works fresh with different media, styles, & skill levels. Included are talented artists from this area, from other states, and often from other countries.
This art space welcomes diverse artists to show what they have created!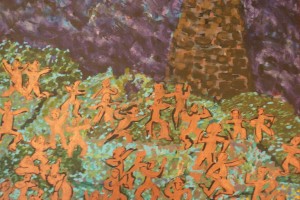 Running for Their Lives by Dianna C. Long
It is also an art gallery that exhibits specially themed shows that display art by under represented people.
Many artists face rejection, lack of interest in their art, and aren't aware of the hoops they must jump through to make it as an artist. Some artists face personal and external obstacles at all levels of their artistic development and experience. Because of this, the rate of community artists tend to drop in time, and many frustrated artists are faced with the possibility of having to give up all together. Our gallery understands what new and emerging artists endure & offers to help them find their way in a supportive environment.
The curator is an an artist too. There are stages artists go through and she has been through them all. We can help you learn and develop if that is what you want. We can just show your art in one or more of our exhibits.
What the gallery doesn't have in size is made up for in rare and original artwork and clever show hangings. We also offer consultation sessions for career development, goal planning, and decision making. Many meetings & small workshops take place in the art gallery.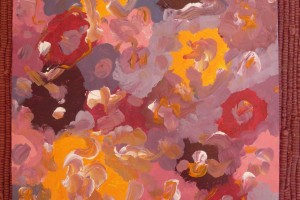 All a Bloom
Periodic art receptions, usually when offered, are on Saturdays from 1:00-4:00 P.M. Often activities such as small group discussions or art studio offerings take place in connection with art shows.
Generally, the gallery is open Saturdays from 11-4 p.m., during activities, and by appt.
Just let us know when you would like to visit, bring some friends, or schedule a group visit. Email is the best way to contact us! Please give us some advance notice.
Please request an appt. in advance via email. Shows change every 1 & 1/2 months to 2 months. Get on the email list for updates to choose from… ….. ….. We have unique ways to spend some of your quality time.


CALL TO ARTISTS FOR THIS GALLERY:
ARTISTS , the best thing to do is to send an email (you can do this by going to website contact page) inquiring about upcoming art shows. Go ahead and send 3-5 images of your art via email, and we will get back to you very soon.

GUIDELINES TO SUBMIT ART FOR CONSIDERATION and to enter exhibits at our art gallery:
Please send digital images of your original art in time to get your images to gallery on time. Contact@urbanartretreat.com. Email an informative artist statement about you and about your art. All media is considered with limitations of size to 32″ in any direction.

We will carefully review and consider your artwork for a show.

Once accepted, we will contact you via email within hours.

Prepare your pieces to be formally presented in the gallery. Label with your name and the title of the piece only on the back of each art piece you deliver. Install display-ready wire on the back of each piece we agree upon for the show. If a hook is used on back of artwork, it must be claw type and only one in center. Please don't use any other fasteners.

Deliver your art pieces to the Liz Long Gallery at CUARC by appt. or send via mail/UPS/FedEx. Art must arrive at gallery by date indicated for that show. thanks. Artist is responsible for all transportation costs and transportation arrangements. Include two copies of a signed inventory sheet you create that includes all of your contact info at the top, and a list of all the pieces you send including w/the title, size, description, media and price or NFS.

Expect that artists receive 70% of all sales with 30% going to CUARC.

Whether you live nearby or faraway- all artists are to invite their support network (family members, friends, co-workers, & clients) to attend the opening reception and associated discussions they are interested in. All artists are asked to help publicize the art show online, on their Facebook page, twitter, etc.

Artists must pick up their art on the last day of the show at 4 p.m. or by appt. within 3 days of the end of show or pay a daily fee beginning on 4th day. We do not have storage for your art and a new show is coming in right after your art show ends! Please be respectful and help us out.
We are especially interested in political statement or social justice issues art works. Art about the "isms" are always welcome- racism, sexism, ageism, homophobia, classicism, ableism, etc.
International artists are very welcome in our art gallery. You must be willing & able to make arrangements for your art to get to and from the gallery.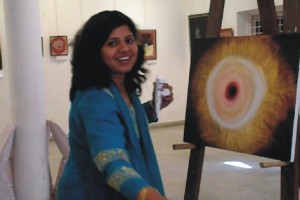 Assistant Curators live in other states such as Maine, Oregon, California, Michigan, Kansas, and many other countries.
Some other countries curators are from Mexico, China, Italy, Canada, France, Korea, and more. Assistant Curators help the CUARC curator by recruiting, screening, and referring potential artists for our art gallery shows. You can do this too! Just send email to our curator!

attention: black artists living/working in Chicago
Gallery is planning it's annual show to coincide with Chicago Artists Month. Liz Long Gallery is currently recruiting for our annual Chicago Black Artists Show to take place October November .
We are especially interested in works on social justice themes and lives of African American people. Artists may email images to curator & art accepted must be in gallery by early Oct. The opening reception is in Oct. from 1-4 p.m. See and follow guidelines closely.
attention: ARTISTS FROM OUTSIDE OF ILLINOIS
Artists from Anywhere but Illinois Art Show is our annual spring exhibit in the gallery! Artists from other states and other countries are included.
Several artists from Korea have been included in the past! An artist was from Brasil, A few from France, another from Japan, Two from Italia. We have had artists from Nebraska, Kentucky, Kansas, Oregon, China, Minnesota, California, Oklahoma, New York. We have a few from Morocco!
We are very pleased with the annual show and are letting people right now know that yes, the curator repeats this show each spring and yes, we are creating a poster from the show and will let you know when it will be made available. More info to follow!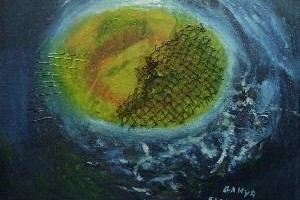 Moroccan artist Bahya El Bahraini Net over deep hole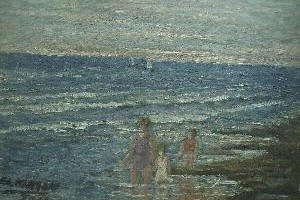 Moroccan artist Elmadani Belmadani Wading at Seaside
Stay tuned for more images!
Donate Now
Support the Urban Art Retreat by Donating Today

Media Updates